Medical Specialist, Dr. John Rosa, Attends Opioid Crisis Bill Signing Ceremony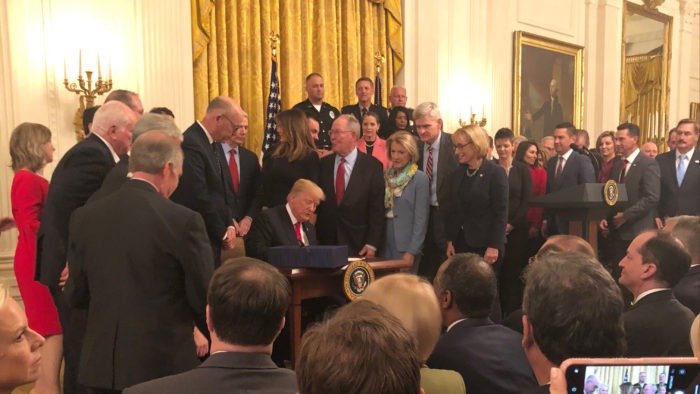 Darnestown, Maryland – October 25, 2018 – Owner of Accessible Beltway Clinics, Dr. John Rosa, recently attended the Opioid Crisis Bill Signing Ceremony where he was recognized by the White House for his commitment to fighting the Opioid Crisis.
"It was an honor to be recognized for my work and a breath of fresh air to see how both parties, corporations and experts came together to fight this epidemic," states Dr. Rosa. He was encouraged to continue his work in creating awareness and prevention on the Opioid Crisis by James Carrol, Director Office of National Drug Control Policy, Governor Chris Christie, Chair of The Opioid and Drug Abuse Commission, and Kellyanne Conway, Counselor to The President, and was also offered their help on a major project he is currently working with more details to come in the near future.
Dr. Rosa is a surrogate to the White House commission on the Opioid Crisis and has presented on the importance of integrated care at the White House Opioid summit. He is an opioid crisis expert and a regional provider with 13 treatment centers in the D.C. area and recently opened a clinic at the Menocal Family Practice where he treats patients free of charge.
More About Dr. John Rosa:
Dr. John Rosa owns and supervises Accessible Beltway Clinics, which is comprised of 14 clinics in Maryland and Virginia, combining medicine, chiropractic, physical therapy, acupuncture and behavioral medicine to give a comprehensive multidisciplinary approach to pain syndromes and musculoskeletal disorders. Active in sports medicine with consulting/treating athletes in several universities, as well as professional and Olympic athletes. Creator of 24/7 RnR an FDA approved analgesic cream; a proprietary blend of the most potent materials resulting in the most effective product on the market for pain Relief and aiding Recovery. Founder of Accessible Wellness Solutions – an onsite corporate wellness program offering consulting, lectures and management of onsite clinics.
Leader in Chiropractic 
Trustee of New York Chiropractic College for over 15 years serving final 3-year term as Chairman of the Board and given the honor or Board Emeritus post service. Awarded the highest recognitions in Chiropractic Medicine as Fellow of the American Chiropractic Colleges and Fellow of the International Chiropractic Colleges.
Integrative Medicine Specialist:
Board service to Maryland University of Integrative Health

Consultant on Integrative Medicine to hospital cancer center

Reduced opioid prescriptions by 70% by integrating Chiropractic, physical therapy and behavioral medicine in a primary care setting

Expert/Speaker – Educating medical community on the Integrative Medicine approach to treating pain
Opioid Crisis Expert:
White House Surrogate/Consultant

Law Enforcement Consultant (Homeland Security, CBP, DOJ, DEA and Postal)

State and National Consultant to Opioid Task Forces

Corporate and professional organization consultant

Currently forming the Opioid Abuse Prevention Institute
Community Leadership:
Board member of the National Italian American Foundation

Volunteer at Crossroads Freedom Center – a residential facility in Maryland to help overcome addiction

Helped found an orphanage in Bellona, Italy

Knight of The Sacred Military Constantinian Order of Saint George
If you would like to learn more about the Opioid Crisis as it relates to awareness, prevention and treatment or schedule a corporate or organization seminar contact us at DrJohnRosa.com. Here you will learn how to connect you, your company or organization with the leading experts on the crisis and how to help your community stay safe. Visit often to keep up with upcoming publications, blog posts and scheduled lectures on the topic of pain free living and avoidance of the opioid crisis. The site will also make available the best in market topical pain relieving products as well as the most advanced nutritional supplement line on the market.
###
Contact:
Dr. John Rosa
301-728-2774