New Legislation Aims To Curb Opioid Crisis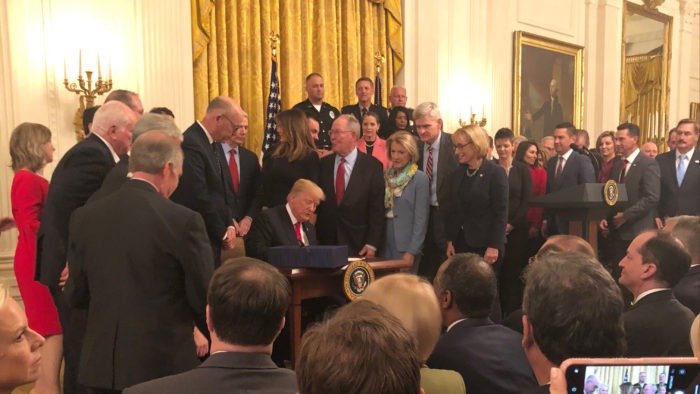 On Wednesday, October 24, I had the honor of being present at the signing into law of a sweeping legislative package that lawmakers and public health experts alike believe will help curb the growing opioid crisis in the United States. In addition, my work on the opioid crisis was recognized by the White House during the signing ceremony. I was also encouraged to continue my work by the Director of the Office of National Drug Control Policy, James Carrol, Chair of the Opioid and Drug Abuse Commission, Governor Chris Christie and Counselor to the President, Kellyanne Conway. They each generously offered their help on a major new project I am currently working on.
Funding Makes Access To Treatment A Priority
It is good to know that the new legislative package directs funding to federal agencies and individual states to make greater access to addiction treatment a priority. In addition, the new legislation sets in place interventions to help mitigate the crisis, like preventing over-prescription and training law enforcement to intercept shipments, including the deadly and highly addictive drug fentanyl, at U.S. borders.
The number of people who died from an opioid overdose rose to 72,000 last year, a roughly 13 percent increase from the year before, according to the Centers for Disease Control and Prevention
Non-Pharmacological Strategies Prevent Addiction
The work I am engaged in and promoting involves education in the use of non-pharmacological strategies to decrease pain, increase mobility, and limit the use of narcotic medications. This holistic approach includes such strategies as early intervention with good judicious integrative medicine. Integrative approaches include chiropractic care, acupuncture, diet/nutrition evaluation and behavioral therapies.
Other Efforts Coming Into Effect As A Result Of New Legislation
Based on models that have proven successful in private practice throughout the country, The Department of Health and Human Services will now oversee a grant program to expand the use of "comprehensive recovery centers." The programs include job training, mental health services and housing alongside addiction treatment.
With the Department of Health and Human Services overseeing the new program, the National Institutes of Health will be freed up to more quickly pursue research projects related to non-addictive drugs for pain.
Addiction to opioids is devastating in the senior population because of over-prescribing. Fortunately, the new law makes changes to several Medicare and Medicaid regulations. It would expand Medicare coverage for opioid treatment, increase screenings for opioid use disorder and expand the use of tele-health services for the treatment of substance-use disorders. Medicare documentation would be required to educate patients about categories of alternative, non-opioid pain management treatments.
Decreasing The Decimation Of Our Young
As our communities are struggling to deal with the current pandemic of opioid prescriptions decimating our youth, it is imperative that health care providers develop strategies to decrease the prescriptions of narcotic medications while increasing a patient's function and ability to return to a normal life. This new legislation is the beginning of a unified effort at addressing this problem. I am committed to continuing the work of providing education and holistic, non-pharmacological solutions.